DISCLAIMER
 The products reviewed here were sent to me after winning a competition on Debenhams Facebook page. All opinions are my own. I am not being paid to write this.
I was very lucky and have had the chance to try the new Calvin Klein make-up range,
CK one color.
 On Debenhams Beauty Card Facebook page, they always have competition's where you can enter and if you win, they send you new products to try and in return you review them. I've entered loads of times before and finally won! I was so excited when I checked my e-mails and saw I had won.
I received the packet this morning (this will be uploaded tomorrow so technically I received it yesterday) and I was so excited. I couldn't wait to try it. I will link my YouTube video below where I talk about each product and I filmed myself opening them so you can see my reactions to each product. 
I was sent two foundations to ensure I got a good match, a mascara and a smoky eye shadow quad.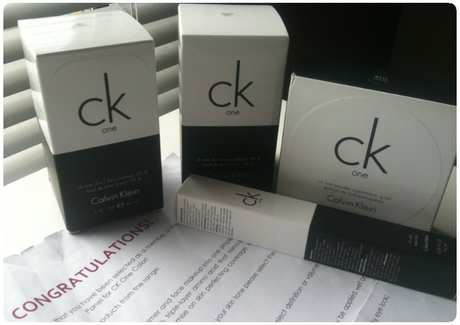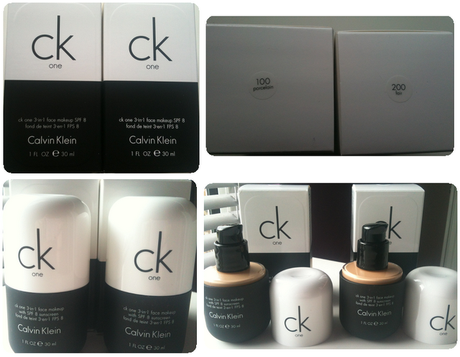 For foundation, the two shades that I received were
100 Porcelain
and
200 Fair
.
200 Fair
is too orange for me and therefore I'm going to add it into my professional make-up kit.
100 Porcelain
is a perfect match for my skin and I think it's the lightest shade available. This make up is 3-in-1, which is a serum, primer and foundation all in one. This is great for dryer skin types as it has a serum in it and will keep skin hydrated for longer. The primer will be good for both dry and oily skin types as it keeps your foundation on longer. It feels like a light consistency and I thought it would be really light coverage, however it covered everything really well. Once applied all over my face, I just added extra onto redness and used my normal concealer for blemishes. This foundation also includes SPF8 which isn't that greater protection, but it's better than nothing, and is advertised as non-comedogenic which means it shouldn't block your pores. And the last couple of benefits, it includes vitamins A,C and E which are great for your skin and last but not least, it's supposed to last for up to 11 hour's. I'm on hour 6 and it's still looking as though i've just applied it. The only little thing with this is that even though the packaging is really nice, it's really quite heavy as the bottle that holds the foundation is all glass.  This product will retail at £25.00.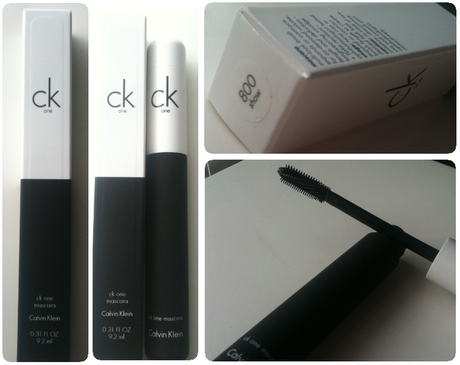 The next item is the mascara. The color is
800 Show
and it's just a black color. The packaging again is nice and I think everything looks really sophisticated. The brush is a comb one with really small bristles, and it covers the lashes really well. The only thing with this is that the wand is quite long and I found it hard to control the application. However, there is one very fancy twist (HAHA) to this mascara. If you twist the end of the mascara, it pulls the end of the wand from longer and lengthening and makes it into a more volumizing wand. It's so cool! Hope you can see the difference in the pictures below. This product will retail at £17.00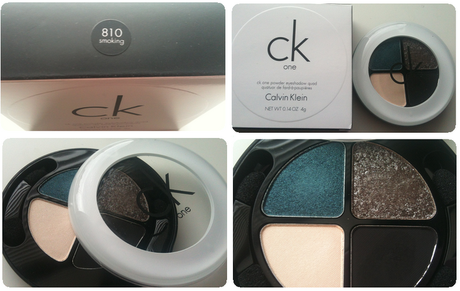 The third and final item I was sent was this lovely smoky eye shadow quad in
810 Smoking
. I love the way it looks and that the lid slides to the side. It comes with 2 double-ended foam applicators which I didn't use as I find them really difficult now after using brushes for so long. The cream and black are really pigmented. The cream color is quite shimmery and is a great highlighting color. The black is incredibly pigmented. One tiny dab with my brush and it was really dark so I had to wipe some off. The black looks matte but it has a tiny tiny bit of shimmer in it which is nice since the other 3 colours are really shimmery. The turquoise and gray color aren't as pigmented. I used a dry brush at first and really had to rub my brush in it hard to get a decent amount of product on. I then sprayed some MAC fix+ onto my brush to wet it slightly and then they worked really well. I am really impressed this and look forward to swatching the other quads and hopefully buying some. They will retail at £25.00.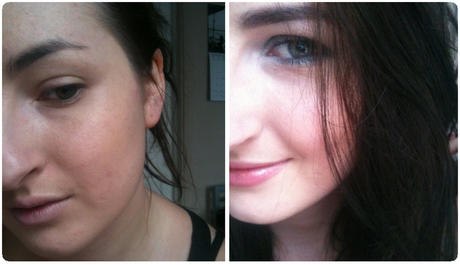 On the left is my first application of the foundation, the right and picture below are the finished look.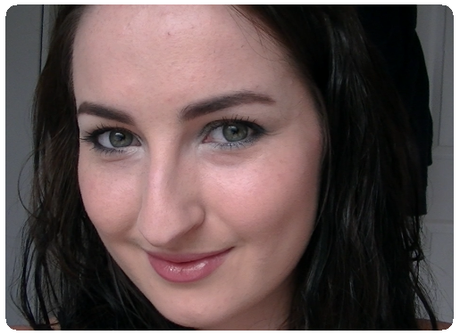 Check out my video here!
These items will be available on Debenhams website from 6th August and in stores in Glasgow, Manchester, Newcastle and Cardiff from September 5th (that's what it said in my letter). I'm really impressed with the products. My only concern is that the black material on the packaging is the same as NARS which means it's going to end up very dirty and messy looking but that won't put me off! I can't wait to try more from this line.
What do you think of 
CK one colour
? Will you be buying anything from this line? Let me know what you think :) Thanks for reading.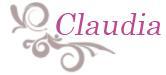 P.S: All prices I read in the latest issue of Company magazine.