It's summer time and what better way to spend the time then by the pool reading and I'm giving one lucky winner my book!!
"If you're looking for an easy summer read then grab a copy of
Cherry Blossom Capers
. I'm not sure which story was my favorite as they all were enjoyable, but what makes a book like this so nice is that one story can easily be read in a day beside the pool." -Read the rest of Kimberly's review
INCLUDED in this Summer Fun Family Giveaway is something for EVERY member of the family and all the items are related to my novel Buried Deception.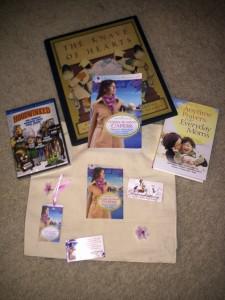 Cherry Blossom Capers
book with FOUR novellas!
Hoodwinked DVD:
Fun kids movie that my college friend Tony Leech co wrote/directed. It's referenced in a pivotal moment between Samantha and Nick…warning, if you haven't seen the movie, there is a spoiler in the book!

The Knave of Hearts Illustrated Book:
Plays an important role in Nick and Samantha's romance. And the book is soooo beautiful, I had to buy another for myself!
Anytime Prayers for Everyday Moms:
A prayer book I contributed to that offers practical prayers for moms and one Samantha would have loved to have read!
Starbucks Gift CardCherry Blossom Capers Book Tote
Easy to enter!!
a Rafflecopter giveaway