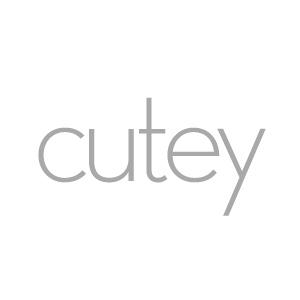 I'm a huge fan of charm bracelets, I own bracelets and charms from all of the major brands each bracelet costing in excess of £100.  It's not always appropriate to wear an expensive piece of arm candy but what you don't want is a cheaper piece that looks cheap, that's where Cutey comes in.
I was lucky enough to be sent two charm bracelets from Cutey, Oizys and Typhon both retailing at £12.99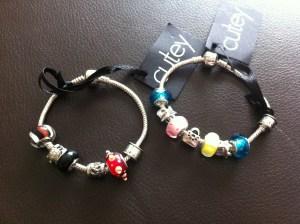 What first caught my eye when opening the bracelets were the similarities to some of the more expensive brands, although the beads are not sterling silver or gold they certainely do not look cheap, you could be mistaken for thinking the glass beads were the same as the higher end beads as the quality is excellent.  The actual bracelet is strong and sturdy with a strong clasp which is easy to open and close.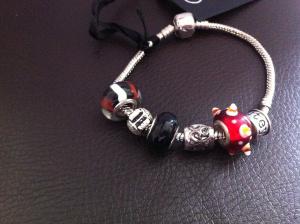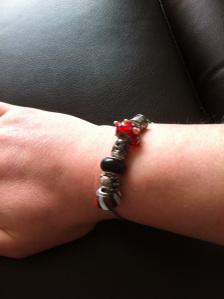 The Oizys charm bracelet £12.99 features 6 different charms on an 18″ bracelet with snap clasp.  3 of the beads are glass my favorite being the red bobbly bead which gives texture to the bracelet and doesnt dig into the wrist while wearing.  The bracelet features a silver coloured turtle bead which is rather cute.  The bracelet would suit a variety of ages in my opinion and would make an excellent stocking filler for Christmas due to the red color in some of the beads.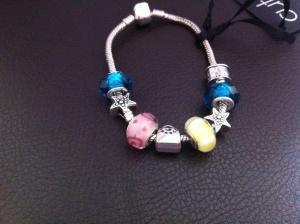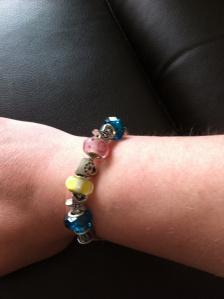 The Typhon charm bracelet £12.99 is probably one of my favourites, I love the variety of colours used to make up the bracelet which is both girly and elegant at the same time.  Any budding fashionista will love Typhon which features a silver coloured handbag charm.  I have been wearing this particular bracelet most days and have received many compliments on it, my admirers have been rather surprised that such a beautiful piece of jewelry came which such a reasonable price tag.
Both of my bracelets came in the 18″ size, since becoming pregnant my wrists have expanded a little meaning I could do with the 20″ for a bit of extra room so I suggest you measure your wrist before ordering and pick the size that will provide the most comfort.
You can find the full range of Cutey charm bracelets here all of the bracelets would make ideal purse friendly Christmas or birthday presents but I doubt you would want to give them away once ordering!  You can also follow Cutey on Twitter @cutey