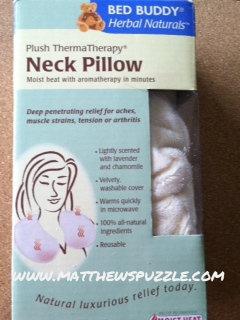 While I was at #Brandcation this past May I had the opportunity to try several Carex Health Brands' products including the Bed Buddy Herbal Naturals Neck Pillow, the Apex Pediatric Kit and the Apex Detach and Go Pill Box.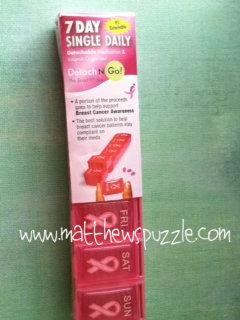 With Matthew's autism recovery protocol he has to bring supplements to school to take at lunch time. I had been sending the supplements to school in small snack bags, but sometimes they were thrown out after use. I don't like to be wasteful so I was really glad when I got the Detach and Go Pill Box. I could fill only those days he would be in school and send in just the portion of the pill box that was necessary. And because it was a pill box the nurse never threw them out. When there were holidays or vacation days I could easily remove that portion of the pill box, re-attach the rest and know that Matthew was only carrying what he needed for the week.
I also received the Bed Buddy Herbal Naturals Neck Pillow. I was really excited about this product because I thought it would be heavy enough to offer Matthew some sensory input. Unfortunately it is not as heavy as I would have liked for his needs, but that is OK, because I get to use it myself. It is very relaxing and can be gently warmed in the microwave. I'm planning on using it, warmed, on my lower back this evening!
Lastly I tried the Apex Pediatric Kit. Of course we have a thermometer, but I swear it is NEVER in the room we need it. Some how it is always in the sleeping child's medicine cabinet when we need it for the sick child in the other room. This way we have an extra thermometer that we now keep in our medicine cabinet. Also, there is a medicinal syringe that we are using to give Matthew his dose of chelation medicine. There are a few items we don't get a lot of use out of since we no longer have a baby in the house, but it is a great kit for first time parents. The nasal aspirator is really sturdy, much nicer than the blue ones and it comes apart for easy cleaning! Also included is a medicine nurser, which I think it a super cool idea. You place the medicine in the top and the baby uses the nipple to "nurse" in the medicine.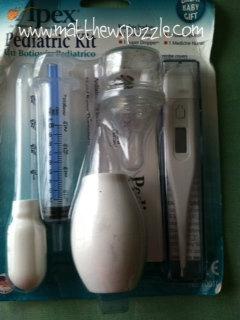 Giveaway:
Carex has been kind enough to offer a giveaway to Matthew's Puzzle Readers. One lucky person will win their own Bed Buddy Neck Pillow! To enter the contest simple leave me a comment why you want to win the Bed Buddy Neck Pillow.
For additional chances to win do any or all of the following. Leave me a comment for each one you do.
Like them on Facebook here Bed Buddy Facebook page
Like Matthew's Puzzle on Facebook here 
Subscribe to Matthew's Puzzle
Tweet this contest, and leave me the link to the tweet
The contest will run from June 5, 2012 to June 19, 2012 at 11:59:59. The winner will be randomly chosen using And The Winner Is… The winner will have 48 hours to claim their prize or a new winner will be chosen.
Carex Health Brands provided the products for this review, but the story is mine. You may be interested in joining the Carex Care Connection for discount offers.