This is going to be a rant so hang in there.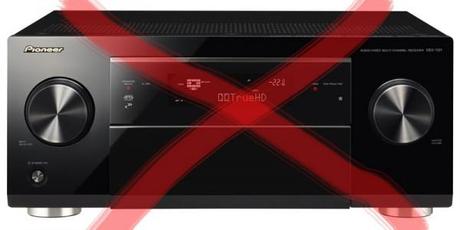 I recently purchased a new Pioneer Receiver (VSX 1121 K) for $450 to replace my old Onkyo Receiver that had caught fire. I purchased the receiver from Amazon.com on January 29th. I don't remember anywhere on the website that specified that Pioneer would not stand by their warranty if the receiver was bought from Amazon. I have learned that now for sure.
The first few days I had the Pioneer receiver I should've known something was wrong. It never performed the way I wanted it too. Sure it ran a hell of a lot cooler than my Onkyo, but there were things I wasn't too happy about.
I thought everything was fine. One night in April, it wouldn't turn on for about an hour, but then recovered. Another warning sign. Then last night I went to play my new Civilization V expansion and the computers HDMI never checked in. Then the Xbox. Then the TV. Nothing was working. When I turned off the system it would stay frozen. Needless to say I needed to get this fixed!
I sent an email to Pioneer asking them what I could do to get it fixed. When they opened for business this morning, they sent me a nice email telling me where I could bring it to be inspected. I drive to the location they provided. Guess What? There's no store there anymore. They had moved. Luckily it was only a difference of about 15 minutes, but still I was annoyed.
When I finally get there, I bring inside my receipt and the email from Pioneer telling me to go there. They look it up in the computer and notice that Amazon was not an Authorized Reseller of Pioneer Electronics at the time I bought the Receiver. They told me that they couldn't repair the receiver under the warranty. I asked them how much to fix it outside of warranty. They told me $125 for labor, $75 to leave the receiver there and then who knows how much to actually fix the thing. I took my receiver and went to my car.
So I called Pioneer, angry that they had sent me somewhere that I couldn't even repair the receiver. They told me I was screwed. That was it. They weren't going to help me even though the product they sold me was under six months old. It had cost me $450 and I only had it for six months! Needless to say I was really upset. I called Amazon and explained the situation. They told me that it was of course outside the return window.
Thankfully, Amazon came through for me.
They offered to take the receiver back and give me a refund for the receiver. I couldn't be more satisfied. Truth be told I would've called BBB and got into a huge fight because I would not have been happy with be told I bought a lemon.
Lessons learned from experience:
Always make sure the website you buy the product from is an Authorized Reseller of the product.
Never buy another Pioneer Receiver since their support of their product is terrible
Onkyo Receivers catch fire, but at least they come with a two year warranty.
Did you enjoy this article? If so, we'd love to hear your thoughts in the comments below. It would be great if you subscribed to our RSS feed or signed up for email updates to get more goodness. There's lots more where this came from!