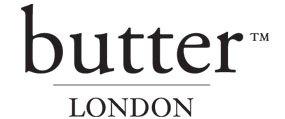 I'm a huge fan of butter London, I love the formula of the polish, the time it lasts on my nails, the colours available and the chunky bottles so when one of the Christmas polish and lipgloss sets popped through my door I was elated.  I love glitter polish and I own a fair few different colours and brands but there was something a little bit special about 'Frilly Knickers'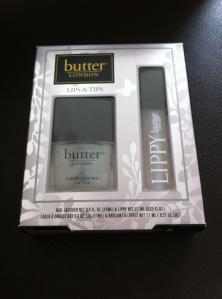 I do have to apologize about the picture quality, I had to take the images for this post using my iPhone as my camera charger is still in a box in the garage so I don't have any fabulous macro pictures.
The set I received is one of the Holiday Lips & Tips set in Frilly Knickers (£21) which is a sheer iridescent shimmer.  The gloss has a vanilla scent which may be off-putting to some but I happen to love it.  Having th sheer set means you can layer it over your favorite colours or wear them alone for a quick blast of sparkle.
The Holiday Lips & Tips sets are available in 5 other colours which are West End Wonderland which is a sheer gold shimmer, Shambolic which is a beautiful sheer plum glitter,  Rosie Lee a sheer pink shimmer, Fiddlesticks a sheer Raspberry-Magenta shimmer and finally Chancer which is a sheer deep red glitter.  Each set retails at £21 and would make an ideal present for christmas, I would love to receive one in my stocking!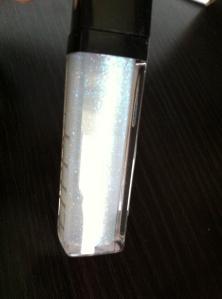 I have to apologize again for the poor photo quality!  The lipgloss looks like a tube of snowflakes, although the product looks white in the tube it is actually sheer on application.  The formula is thicker than most glosses I've used in the past  but is very easy to apply.  I really like the vanilla scent but find it does make me want to lick my lips which are incredibly dry at the moment hence the fact I have no lip swatches to show you.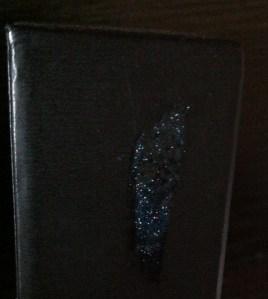 I've tried to show the sparkle by swatching the product on a dark background, I find that the product actually looks really good on its own meaning you can spend more time on your eye makeup and have plain sparkle lips.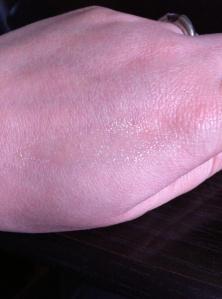 The swatch on my hand is quite difficult to pick up but please trust me it has the perfect amount of sparkle and looks really great over a coloured lipstick (handy tip: If you do decide to layer over a color please use a lip brush for the gloss or you will stain the applicator)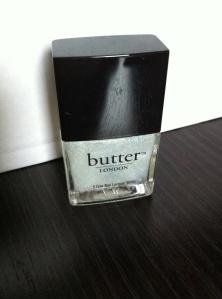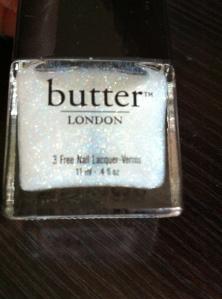 The Nail polish is beautiful, there are no other words to describe it!  The shimmer of the polish just screams Christmas to you and like the lipgloss looks like a bottle of snowflakes.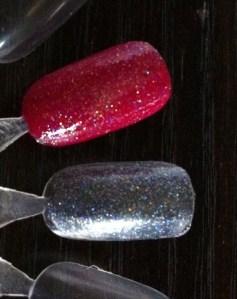 The top nail swatch is Frilly Knickers over two coats of OPI Miami Beet and the bottom swatch is 2 coats of Frilly Knickers on its own.  I've been wearing the polish layered over a color on my toes for over a week now and it's showing no signs of wear.  I love how the polish can be worn alone as well as layered which means it will see you through the holiday period.  As I said earlier in the post, I love the formula of butter London polish because application is so easy and the drying time between coats is super fast.
If you're looking for a Christmas present that has the wow factor or just want to treat yourself to a little gift for the holiday period you really should consider the Holiday Lips & Tips gift sets.
All Christmas 2012 products are available from Harvey Nichols and Butter London