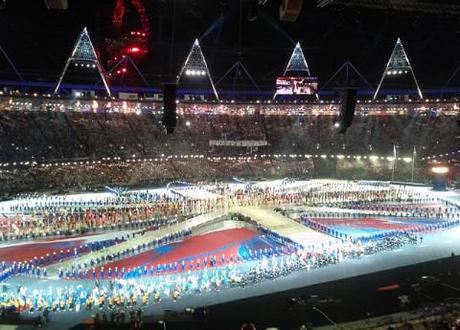 London 2012 closing ceremony at the Olympic Park, east London. Photo credit: gorgeoux http://flic.kr/p/cQtCtL
The background
The London 2012 Olympic Games came to a close Sunday night with a high-octane closing ceremony at the Olympic Park – Kim Gavin's Symphony of British Music. British pop and rock acts including One Direction, Take That, Madness, The Pet Shop Boys, Jessie J, Tinie Tempah, Taio Cruz and the Spice Girls performed to a stadium packed with 80,000 revellers and thousands of Olympic athletes from 204 countries.
More bizarre moments included comedic actor Russell Brand singing I Am the Walrus from a psychedelic bus that metamorphosed into a giant transparent octopus from which Fatboy Slim delivered a DJ set.
Team GB's performances and London's all-round hosting of the Games is widely considered to have been a spectacular success. The closing ceremony roundly impressed the commentariat in the mainstream media but went down less well on Twitter.
Awesome farewell party
"It ended as it began: as a celebration of Britain at its best," insisted The Sun, in an editorial, which described the opening and closing ceremonies as "catchy, crazy and totally compelling." "Can it really be over?" sobbed the tabloid. "If you're feeling sad today, so are we. The athletes won't be the only ones who brushed away a tear during last night's awesome farewell party."
"This has been the greatest fortnight in many people's lives," boomed The Sun, which added, "the world's verdict is unanimous: Our Games were sensational. And they were. We absolutely nailed it."
Fun, fun, fun
Martin Fletcher of The Times (£) celebrated what he considered a "raucous, exuberant celebration of modern British culture … it was £20 million worth of irreverent and cacophonous fun with stunning lighting and pyrotechnics."
More cacophonous than symphonic
Richard Williams of The Guardian described the ceremony as "a raucous pageant of popular culture." "It was, as promised, more cacophonous than symphonic," observed Williams, who said "there was no message, and nor did there need to be, except 'Wasn't it fun?' and 'Aren't we great?'" That said, Williams said that Damien Hirst's tie-dyed rendering of the union flag, which filled the ground on which the world's finest athletes had "run and jumped and thrown their way into history, reminded those suspicious of raucous patriotism of how great the union flag suddenly looked when it was ripped out of the hands of the extreme right and wrapped around the shoulders of Jessica Ennis or Mo Farah."
Kaleidoscopic spectacle
Unlike Danny Boyle's opening ceremony, Gavin's closing one "had no hidden narrative but simply amounted to a kaleidoscopic spectacle based on what Gavin himself termed 'a mashed-up symphony of British music,'" noted Michael Billington of The Guardian, who said "you can't really review a show like this. You can only describe it. But what emerged through all the smoke, strobe lighting and special effects was the energy of British popular culture over the past few decades and the gaiety of our Olympic ceremonies."
A few duff notes
Writing at The Telegraph, Bernadette McNulty said the ceremony had its fair share of cheesy, fun moments but there "were some clear flaws: the obvious absence of top-drawer stars like Kate Bush, David Bowie and ELO glaring when their music was used. And where the stars were present there were way too many mediocre moments. George Michael gyrating to Freedom was perfect but allowing him to play an unknown and unremarkable current hit was a wasted slot and Annie Lennox was utterly underwhelming."  And Liam Gallagher was "nasal and off key," sniped McNulty.