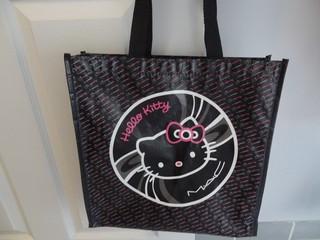 Packed and ready for the desert island
Welcome to the first edition of Beauty Spotlight Team On A Desert Island. The Beauty Spotlight Team has shown you our makeup bags and also a "mystery" post about things you'd never seen that we like. Now we're deserting each of the bloggers on a "desert island" to see their interpretation of this challenge. The rules are that we can bring a bag holding only twelve items. We aren't bringing sunscreen or lip balm because our desert island will have a stash of that. Civilization rules when it comes to beauty bloggers. We hope you will be looking forward to our future posts.
You'd think that think that this would be an easy assignment. After all finding twelve items that you love isn't hard at all. Until you try to put it together that is. I had several dilemmas. First do I want to look glamorous? I'm not sure who I'm looking glamorous for though. Second do I need to just pamper my skin so that when the rescue ship comes to get me I won't look like Tom Hanks or his basketball. Third this reminds me of the book "If You Give a Mouse a Cookie". As soon as you pick one item you need more to go with it. Pick an eyeliner and you need a brush or sharpener. Pick eyeshadow or powder products and you need tools. The list could go on and you'd still want a cookie. I've decided to bend the rules a tiny bit. Some of these items are my Holy Grails and some are things I like a lot but could switch if needed. But they all are items I'd enjoy on my stay on the desert island.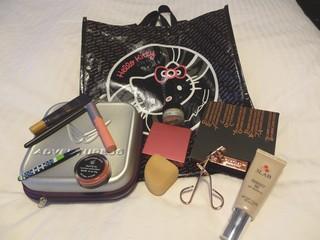 12 items for my adventure
Here are the 12 in no particular order:
1. Anastasia's Want You to Want Me Eye Shadow Palette– this is my cheat. This amazing set is all in one box though so I'm counting it as one even though in reality there are 4 items in it. There's a beautiful e/s palette with 9 shades in the brown and purple families, a small liquid eyeliner in black, a mini clear brow gel and a small two sided brush. Plus the box has a nice size mirror so that crosses that off my list. This will be reviewed in full soon but believe me it's "desert island" worthy.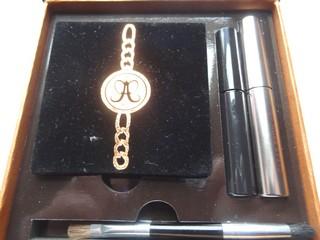 Anastasia Want You to Want Me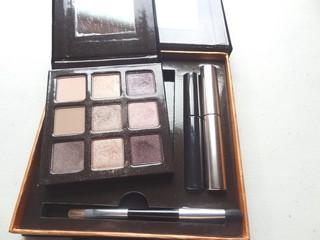 Anastasia Want You to Want Me open
2. 3Lab Perfect BB Cream – this was one of my choices in the recent Makeup Wars. The reason I picked this particular BB cream is that the tube is easier to travel with than the Skin79 cylinder and I don't notice any lingering fragrance. I figured that a BB cream is everything I need for my skin during the day and it's light enough that it won't be melting off in the sun.
3. Mally Evercolor Poreless Face Defender – which is a Holy Grail item for me. I use this almost every day (on the other days I'll use powder especially IT Cosmetics Bye Bye Pores). The problem with the Mally is "if you give a mouse a cookie"…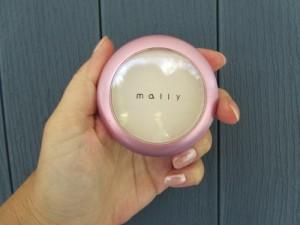 Mally Poreless Face Defender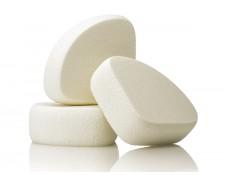 Mally Performance Sponge (just 1)
4. then you need the applicator. So number 4 is the Mally Ultimate Performance Sponge applicator which is perfect for the Pore Defender.
5. MAC 217 brush is next. I have a ton of brushes but this is the most versatile and reliable for the way I apply eyeshadow.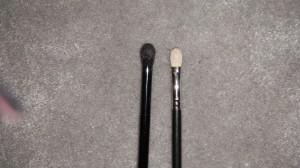 MAC 217 is on the right
6. Tarte Maracuja Creaseless Waterproof Concealer, another HG item. It's perfect for my undereye area and I rely on this to hide the dark circles daily.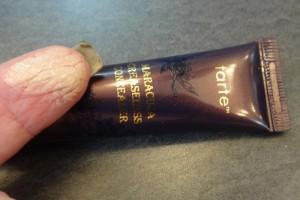 Tarte Maracuja Creaseless Waterproof Concealer in Fair
7. Tarte Lipsurgence Lip Tint in Sweet for my lip product. I love the color and the feel plus it winds up so I don't need to worry about sharpening this lip crayon.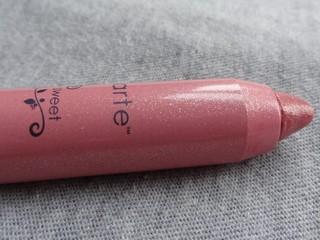 8. Tweezerman Pro Curl Eyelash Curler is going with me but I don't have room for mascara. I love the eyelash curler and if I at least curl my lashes it's not too bad plus I'd probably cheat and use the Anastasia Clear Brow Gel on my lashes instead since my eyebrows aren't great.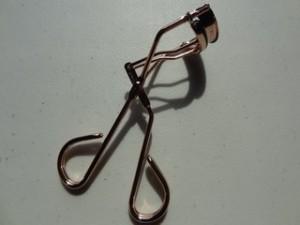 Tweezerman Pro Curl Lash Curler
9.  Youngblood Luminous Cream blush in Taffeta which is very close to being a Holy Grail blush. I wear this more than any other blush I own. The color works well too with my Tarte Lipsurgence and the Anastasia eyeshadow colors.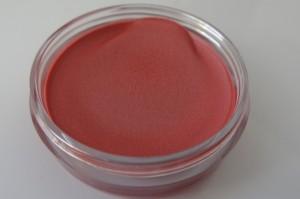 Youngblood Cream blush in Taffeta
10. Algenist Eye Renewal Balm- this is my current favorite. I'm a slut when it comes to eye creams and this eye balm is one of my favorite "customers".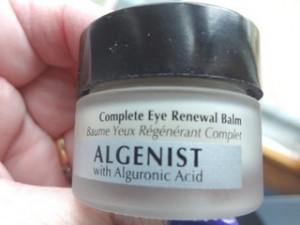 Algenist Eye Renewal Balm
11. Tweezerman tweezers– if I didn't take this I'd look like Santa Claus when I was picked up. I'd have a beard! My Tweezerman tweezers are absolute HG material.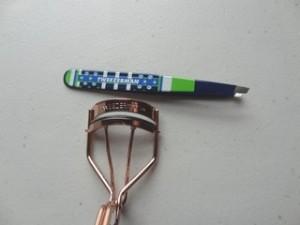 Cynthia Rowley tweezers for Tweezerman
12.  Another cheat is coming – my Adventuress Skin Care travel set. I just reviewed this and while I was debating what my 12th item would be I realized that this kit is perfect – cleanser, SPF that is good for my face, skin purifier and a moisturizer I'd use at night especially.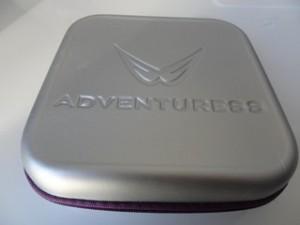 Adventuress Intro Offer Collection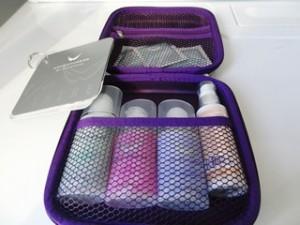 Adventuress interior
This sounds like a lot but think of everything I left out: shampoo, conditioner, a comb or brush, eye makeup remover, body lotion, tooth brush and toothpaste etc. I just hope I have a Twistband in my hair when I'm taken away to the island since that will at least keep my hair a little tidy. I wonder if the mouse will be a stowaway in my bag! Are any of these on your Desert Island list? — Marcia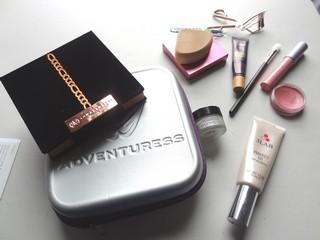 Which of these would you take?
*several items were PR samples, others were personally purchased