A review of Batiste's dry shampoo, one of the beauty products I use most regularly plus a few tips on how to use it to get the best results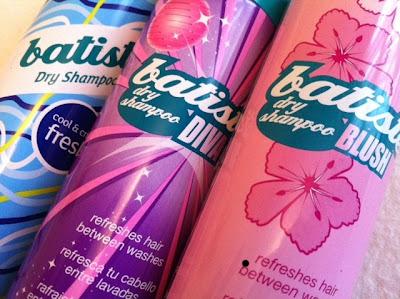 Batiste Dry Shampoo
So this isn't just a review of Batiste Dry Shampoo it is also a confession, my name is Katy, I have a beauty blog and I hate washing my hair. Yes, I've said it, I do not like washing my hair, which means the Batiste Dry Shampoo is not only a daily essential, it is also one if my favorite beauty products.
One of the reasons that I dislike washing my hair everyday is that after I wash my hair it looks pretty lank and dull. Also, I'm growing my hair and I'm trying to avoid heat styling, so the less I have to use the hair dryer the better. Of course, there is also the added bonus of the extra 15 minutes in bed in a morning!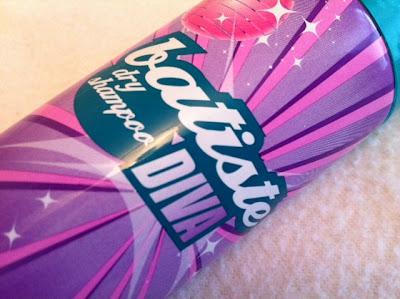 Batiste 'Diva' Dry Shampoo
Batiste Dry Shampoo refreshes hair between washes and removes grease to give hair more body and volume. You apply Batiste Dry Shampoo like a hair spray and although it does leave a slight white residue this is the only down fall of the product. I am currently using Batiste Diva, which has a fresh and slightly floral smell but I really am not too fussy about which scent I use. Once it has been applied the hair doesn't hold the scent
So I do wash my hair but try not wash it everyday. I normally wash it every other day or every two days and find that my hair looks better with dry shampoo. This is because Batiste Dry Shampoo is a great styling product,  you can also use it to give your hair volume and body.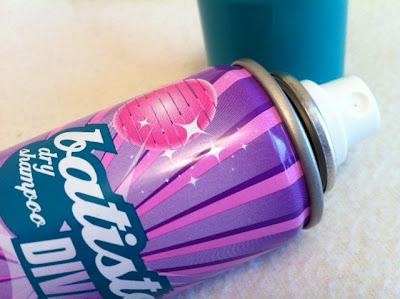 Batiste Dry Shampoo spray top
There are a few techniques to using dry shampoo to get the best results. Firstly spray it at a 30 centimeter distance and don't focus on just one spot. If you do this you won't end up with gray roots. As well as spraying visible roots, part your hair and give it a spray at the roots underneath, this helps to add volume. If you do end up with slightly gray looking roots just brush your hair and it will get rid of the build up.
Batiste smells nice and is super easy to use. It costs around £2.20 in Asda at the moment so it is affordable too. Like I've said it is the beauty product I use the most and it never lets me down!