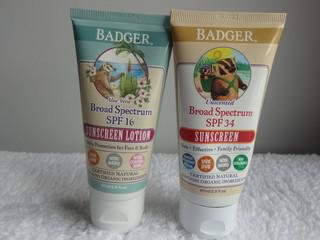 Badger Balm quickly showed us at Beauty Info Zone that they are not just about balms. They have a myriad of products for the whole family and continue to impress us with their line. We've previously had the opportunity to review products like their soaps as well as a mixture of their well known balms. Now we want to share with you about their sunscreens. Badger Balm has 9 different sunscreens as well as a sunscreen for lips and a balm for after sun care. They continue to amaze us with their variety. There's something for everyone. Today you'll learn about two of these sunscreens. We hope we entice you enough that you'll look into these as well as their many others.
Marcia's Side: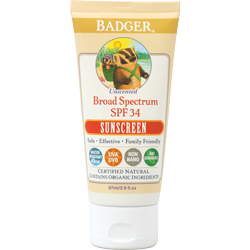 image from badgerbalm.com
We were lucky enough to be send two of the nine sunscreens that Badger Balm makes. I grabbed the Badger Balm SPF 34 Unscented Sunscreen ($15.99, 2.9 oz) knowing that this was a start at making me happy. The second aspect that would make me happy were the ingredients. Badger Balm uses natural organic ingredients in their products. Even their packaging is BPA- and Phthaleate free and made from >50% post-consumer recycled plastic.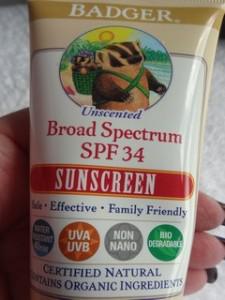 Badger Balm SPF 34 Unscented Sunscreen
Badger Balm SPF 34 Unscented Sunscreen does NOT contain oxybenzone, octisalate, octinoxate, avobenzone or added Vitamin A. But it does contain the mineral Zinc Oxide to give it Broad Spectrum protection from both UVA and UVB rays. The base is made of certified organic extra virgin olive oil, beeswax, jojoba and cocoa butter.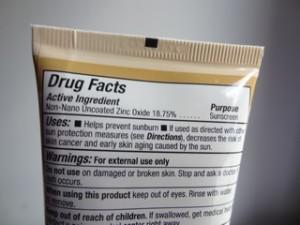 Active ingredients
Now that you know the ingredients, you need to know how it works. The answer is great. It's a very thick sunscreen so it feels not only quite moisturizing but also as if it's protecting my skin that much more. I do NOT use this on my face; this is for my body only. I use sunscreen on my chest and arms all the time so that's how this gets used. Badger Balm tells me it's water resistant for 40 minutes. That may not sound like a long time to be protected but you have to remember that most sunscreens are washed off as soon as you enter the pool or lake. It's recommended that you reapply this every two hours if you are in direct sunlight.
Since it's so thick it appears white at first application. You'll need to massage it into your skin to remove the white cast but once it's on, you'll feel greatly protected. InStyle Magazine named this sunscreen as one of the Best Beauty Buys for 2011. Try it and see why!
LISA'S SIDE:
Marcia got a great sunscreen, but I got a winner too!  I tried the Broad Spectrum SPF 16 Sunscreen Lotion Aloe Vera ($17.99).  This is one is great for the body, like Marcia's, and it's also great for the face.
That little badger is just so cute!
Ok, before I go any further I just have to say that is one cute badger.  He just looks so darn peaceful and wise!  Ok, enough waxing poetic about the badger, let's talk about the sunscreen.  A huge bonus is that this is made with natural, organic ingredients.   And how about that, a mineral sunscreen with an aloe vera base?  Fantastic!  Like the sunscreen Marcia reviewd, this one has broad spectrum protection from UVA & UVB rays thanks to the mineral Zinc Oxide, and it is absolutely free of Oxybenzone, Octisalate, Octinoxate, Avobenzone, or added Vitamin A.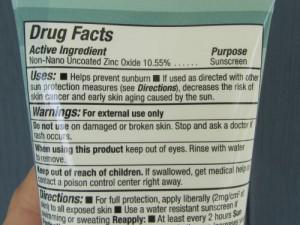 I have been using this on its own, and it worked great while I was vacationing in Florida for a few weeks.  It's also terrific under make up, it doesn't affect the wear or the look of any cosmetics I have used.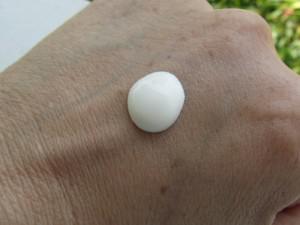 Badger Balm SPF 16 Sunscreen swatch
The sunscreen is a nice, light lotion that sinks in quickly and doesn't leave a white cast to the skin.  It does have a teensy scent, it's a pleasant lemony scent that is barely noticable.  If you prefer unscented products, this is a great option for you.  It's very hydrating and it provides great protection from the sun.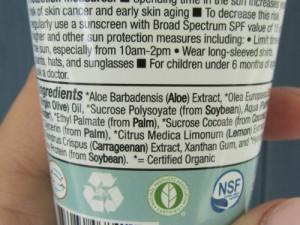 If you are in the market for some effective, organic, and extremely user-friendly sunscreens, you have to check out the wise little badger and Badger Balm sunscreens.  Your skin and your spirit will be happy.  – Lisa
*pr samples