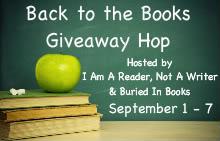 The Back to Books Giveaway Hop is hosted by I Am a Reader, Not a Writer and Buried by Books. It will run from September 1 - September 8.
I'm as lazy as ever.  Or let's just call it traditional.  Or perhaps...adverse to change.  Any who, I'm giving a way a book of one lucky winner's choice for $10 or less.  You can participate if the Book Depository ships to your mailbox.  Good luck and I hope everyone gets some great reading in!  Read a little extra for me!
Here's what you need to know:
 This is an International Giveaway (Whoohoo!) 
You do NOT have to be a FOLLOWER, but it is much appreciated 
I will use rafflecopter to choose a winner 
This contest will end on July 7 at 11:59pm central time. I will announce a winner a few days after. Good Luck!
a Rafflecopter giveaway Here is the code for the linky: