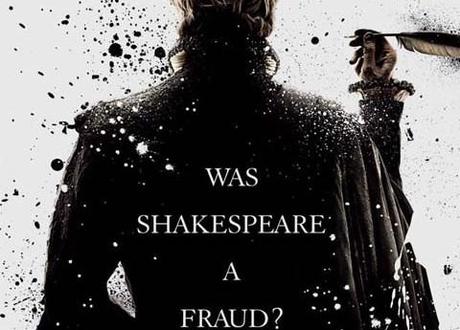 Poster for Anonymous
With the release of Anonymous upon us, the conspiracy theories about William Shakespeare are hotting up again. The film, directed by Roland Emmerich, claims that Edmund de Vere, the Earl of Oxford, actually wrote the plays. It's a theory that was started by J Thomas Looney in the early twentieth century. Is it true, or is it all a case of snobbery?
Meanwhile activists have taken to the streets of Stratford, painting out signs bearing Shakespeare's name in a bid to show how people continue trying to write him out of history.
"There is a risk that people who have never questioned the authorship of Shakespeare's works could be hoodwinked," said Dr Paul Edmondson of the Shakespeare Birthplace Trust, quoted on The Daily Mail.
Facts iffy, but fascinating stuff. It makes sense, said Rex Reed in The New York Observer: the Earl of Oxford wouldn't have wanted to sully his name; Shakespeare's wife and daughters were illiterate, and he retired after his last play, to Stratford to become a businessman. The film also suggests that Shakespeare killed Christopher Marlowe because the latter was about to uncover the deception. Whilst the "facts are still open to conjecture", it's still fascinating.
"There's no evidence whatever that the Earl of Oxford or any of the other 77 people who over the years have been suggested as the author of the plays. That in itself seems to be enough to show that this is a loony idea that 77 people including Queen Elizabeth, that Cervantes the author of Don Quixote, Daniel Defoe who died long after Shakespeare, all have been suggested and put forward by people who have this crazy idea," said Shakespeare Scholar Stanley Wells, quoted on The Daily Telegraph, who also wrote an excellent deconstruction of the Oxfordian argument here.
What happened to imagination? Nobody, said Allan Massie firmly in The Daily Telegraph, says that Dickens and Keats didn't write their works, even though neither of them – like Shakespeare – went to university. We are drowning in conspiracy theories about Shakespeare. It doesn't matter, to the theorists, that the Earl of Oxford popped his clogs in 1604 – years before Shakespeare's final plays were written. It doesn't matter also that at the time nobody suggested Shakespeare didn't write his plays – not even Ben Jonson, who "was not devoid of jealousy." This garbage is all down to "snobbery"; the suggestion that a man who didn't go to Oxbridge couldn't have written his plays. There are three reasons the argument falls flat: what knowledge is in in the plays "isn't that great" – most of it is "cribbed". Also, Shakespeare makes his fair share of mistakes – he gives Bohemia a sea-coast. More importantly, the plays are obviously written by someone with an intimate working knowledge of the theatre. Shakespeare often reworks other people's material – much like a script-doctor would today, working in tandem with his colleagues. In no way could a "dilettante aristocrat" do all this. And finally, playwrights are "magpies" – they steal lines and let that line stand for knowledge they "don't actually possess." He didn't need to have read law, or done politics, to write plays. If you have imagination, you can do a lot. These fantasists know nothing about Elizabethan and Jacobean theatre – and what's worse, is that Hollywood directors don't seem to care.
"To me there are many reasons to doubt the traditional attribution of the works of William Shakespeare to the man from Stratford. The points that strike me most are his signatures – all poorly executed and hardly a sign of true penmanship. His detailed will that famously mentioned his second 'best bed' but failed to mention that the man from Stratford had a literary career. And why did nobody notice the great poet's death in 1616, which was followed by complete silence? Also his two daughters were illiterate," said Roland Emmerich, quoted on The Daily Mail.
It's just prejudice. Natalie Hayne in The Independent agreed with Massie. It's one of "history's stupider conspiracy theories." People who doubt Shakespeare say he didn't mention his plays in his will, so therefore he didn't write them; but he also didn't mention his "first-best-bed" in his will, whilst he famously gave his second best to his wife; so presumably he didn't have a best bed either. The anti-Shakespeare tribes are just motivated by "class and regional prejudice," boiling down to the idea that "an ordinary bloke from the Midlands" couldn't possibly have written such things of beauty. But supporters of Shakespeare shouldn't worry: "Shakespeare will assuredly survive Roland Emmerich. Even if Godzilla didn't."