A UK court has ordered Apple to revise its rather sarcastic apology to Samsung. Now, the Cupertino firm must admit that the Korean tech giant did not infringe on its patents.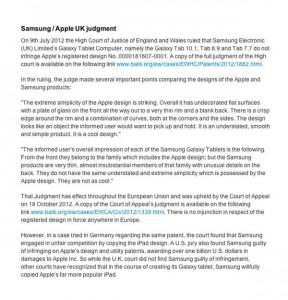 In October, Apple was ordered by a UK court to apologize to Samsung. Apple issued the so called apology on its website via a hard to see link. The apology didn't look like an apology at all, insisting the Korean firm "willfully copied Apple's far more popular iPad".
According to Bloomberg, a UK isn't happy with the iPhone-maker, saying the Cupertino firm's non-apology was "untrue" and "incorrect".
Sir Robin Jacob, a court of appeal judge, said, "I'm at a loss that a company such as Apple would do this." He adds that Apple's statement was a "plain breach of the order".
According to the Guardian, the court ordered Apple to revise its statement within 48 hours. Furthermore, the revised version should be published in at least size 11 font. Apple is said to have argued that it would take at least two weeks to revise the statement, but the judge was not having any of it.
Judge Jacob wrote, "A consumer might well think 'I had better not buy a Samsung — maybe it's illegal and if I buy one it may not be supported'." So it looks like the previous statement did not satisfy the court.
We don't believe anyone thinks Apple statement was an apology to Samsung, nor do we think that it does anything to clear up the confusion.
Currently, the statement has been taken down from Apple's website. Once the revised statement goes live again, it will have to stay on their website until the 14th of December.
What do you think Apple will say in its revised statement? Will it do the same thing again, or will it finally apologize to Samsung? Let us know what you think through a comment on our Facebook page.