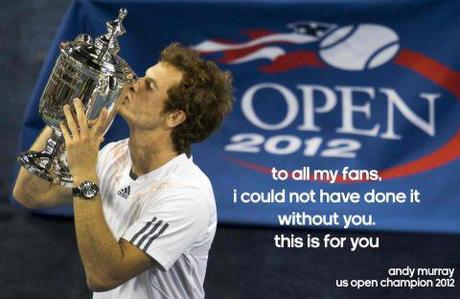 Andy Murray, US Open Champion 2012. Doesn't that sound good?
Its taken a long time coming and it times Djokovic  seemed intent on wrecking the Scot's dream but all the disappointments of losing to Roger and Novak in the past were bottled up and used in that memorable 5th set.
It was far from  a high quality final early on as both players traded cagily from the baseline, trying to prevent the other from getting any rhythm.  The wind didn't help the spectacle either as it blew from one end of the court to the other. Having served at 4-3, Murray was broken and it eventually went into a breaker. After 5 set point chances came and went, the young Scot finally forced an error from the Djokovic backhand to take the first set.
The second set was a different affair with Murray racing to a 4-0 and 5-2 lead only to be pegged back but breaking back brilliantly to take the 2nd 7-5. Murray was broken first game of the third and although showed some resistance, Djokovic seemed to be the fitter player as Andy bemoaned his jelly legs to his camp. Djokovic raced through the third and the 4th was much the same as it seemed that our dreams of a Murray Grand slam wouldn't be fulfilled this time round.
But as second or third winds go this was pretty good. Murray looking dead on his feet late in the 4th broke Djokovic  twice in the fifth  and held to 3-0 only to be pegged back to 3-2. From then on Djokovic looked the vulnerable, as he lost patience in the long rallies and fired long. At 5-3  40-15 and a brief rally Murray fired deep and drew the error from the Djokovic backhand once again. Murray dropped to his knees, US Open Champion.
Having had some sleep and time to digest the game I now think that the Wimbledon final was the making on Murray. So much hurt and pain so much hard work down the tubes. It would have been so easy to give up, throw in the towel and go into a post-slam final slump.  But Lendl has helped Murray channel all this hurt and disappointment into something positive. The glum American has been the catalyst, the driving force behind the Scot since January and a lot of credit must go to him for giving Andy that extra percent.
Its rare for players to win their first slam over the age of 25 these days. As a players career progresses, the odds stack against them opponents learn their strengths and weakness and younger players come on the scene. Andy Murray although only 25 is a been around a long time, he is a seasoned professional and been in the Top 4 for some time. Rafa, Novak and Roger all won their first slam in their early twenties.
Another point which Leif Shiras made very well was the fact that all the other members of the Top4 won their first slams against players whom had never won a slam before. This really puts this feat into context and just shows how difficult it actually was. Being a fan of Andy Murray has never been easy. But hey, like his namesake Andy Roddick who retired just a few days past, Andy Murray is now and will always be a Grand Slam Champion.
Take a bow.