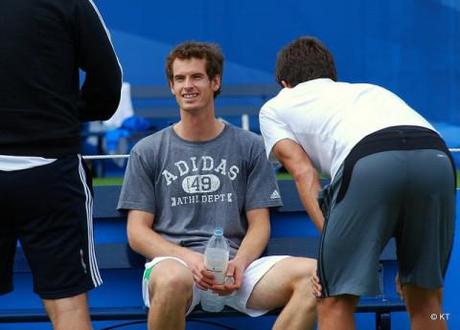 Andy Murray, Britain's hope for Wimbledon. Photocredit: Carine06
The background
Andy Murray may soon make history by being the first Brit to reach the Wimbledon final for 76 years. He just has to beat Jo-Wilfried Tsonga. For four years now he's in the semi-finals – a mere brace of wins away from the cup. Murray is No 4 in the world, and is coached by Ivan Lendl.
Tim Henman, that other Brit with a similar track record in tennis, thinks Tsonga is "eminently beatable," reported The Guardian. It'll be Murray's seventh apparance at Wimbledon, since his debut in 2005. Commentators are excited about the prospect of a Brit winning the tournament – but anything could happen.
"I do think he is better equipped to go further, because he is a better player than I ever was," said Tim Henman, quoted on The Guardian.
Tsonga's dangerous, but Murray can beat him
Sportinglife said that Tsonga, the fifth seed, was a "dangerous opponent" – he beat Roger Federer from two sets down last year in the quarter finals. But Murray has a "great record" against him, and has won five out of six matches against him.
We're seeing a much slicker Murray
Simon Briggs on The Telegraph said that the forthcoming match will have "the makings of another ripper." Murray needs to "maintain the intensity" he had in the quarter final – and he'll be helped along by Ivan Lendl. What we're watching, under Lendl's guidance, is Murray version 2.0 – he's "kept his temper under control", and has "delivered pounding inside-out forehands straight from his mentor's handbook." But the pressure's on Murray again.
Murray can deal with the pressure – but what about us?
Simon Barnes on The Times said that Murray's dealing with the pressure "pretty well." It's us that aren't. "Has Murray ever considered how tough it is, willing him to win?" But now – he can win it. His "path towards the final has been a god-free zone." Tsonga's not quite a "push-over", sure, but it shouldn't be too hard. Wimbledon is so important to Britain – it's "as Hogwarts is to other schools." And we certainly put ourselves "through the emotional wringer" when it comes to it. But here's hoping – it could be a great moment for British tennis.