bestECOshop.com are on a mission this month to help reduce food waste from British kitchens. It's a mission I'm keen to support as currently we throw an estimated 7.2 million tonnes of food and drink in the bin each year – a staggering amount.
While undoubtedly the best way to reduce food waste is to plan your food shopping carefully and freezing leftovers (see the excellent Love Food Hate Waste website for help and advice on this), composting also has a vital role in reducing the amount of food sent to landfill.
Food waste sent to landfill does not decompose in the same way as it would in a composter – as it rots without access to oxygen (being buried under so much other waste) it releases the greenhouse gas methane.  Methane is around 25 times more damaging to the earth's atmosphere than carbon dioxide, accelerating climate change, hence the importance of composting where you can.
Composting kitchen waste isn't hard to do and, contrary to popular opinion, isn't a smelly job if done correctly.  I'll show you how to do it, odour free!
First of all, you need a lidded kitchen caddy to hold your kitchen waste, like one of these.  If like me you have a tiny kitchen then you can even get one that hooks on to the wall or inside a cupboard.  You may also want some biodegradable bags to line your caddy.  I personally prefer to use the bags as it means you don't have to wash your caddy every time you empty it – anything to avoid extra chores!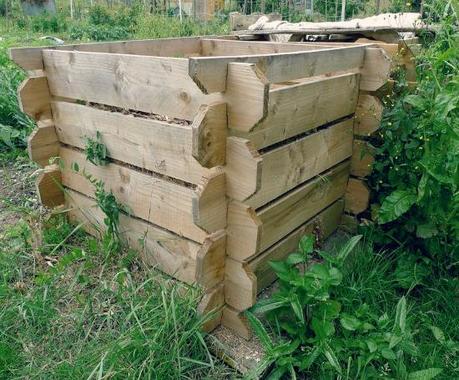 Now you've got your kitchen set up, it's time to think about your garden.  A garden composter is invaluable.  You can make your own, like the one pictured above, but we just have one of the black plastic ones, which we find is good for trapping heat and helping our food waste break down quickly. The best place to site it is in a sunny spot on bare soil.  If you don't have any bare soil and are placing your composter on slabs or tarmac then make sure you place a layer of paper and twigs at the bottom before you start emptying your compost in the composter.  This help creatures such as worms, essential for composting, to help colonize your composter.
Now you're all set up you can start composting your kitchen waste.  You can compost all sorts of kitchen scraps and waste – from fruit and vegetable peelings, fruit and vegetable scraps, salad leaves, tea bags, coffee grounds and filter papers, egg shells and more.
You don't have to empty the caddy every day – just when it gets full.  In our household (of three) we find we empty our caddy into the composter every two to three days, and our kitchen is odour free.  If you live by yourself you may want to empty it before it gets full as you will likely be generating less waste.
Conveniently, you can add your garden waste too – add any flowers, spent plants from your garden, nettles,rhubarb leaves and grass cuttings to your composter. It's also a very good idea to add cardboard, egg boxes, scrunched up paper/newspaper, fallen leaves, twigs, etc.  These are slower to rot, add carbon (essential for providing energy for the worms and other creatures in your composter) and create air pockets.  These pockets provide vital oxygen to your compost, and help stop your composter from smelling.  It's particularly important to do this if you've added grass cuttings to help promote the flow of oxygen.
There are a few composting no no's: meat, fish, cooked vegetables, dairy products, weeds with seed heads, dog and cat poo, and nappies (even the biodegradable ones).
For a full guide as to what you can and can't compost Recycle Now have produced a handy guide.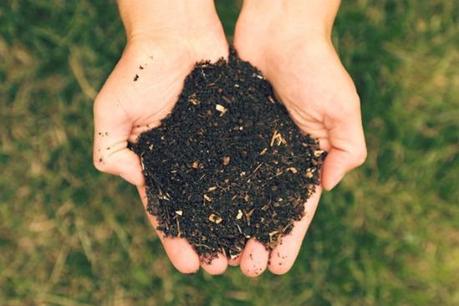 In your composter your kitchen and garden waste can take anywhere between 3 and 12 months to produce garden-ready compost. Your compost will be fantastically nutrient rich and great in borders, vegetable and flower beds, for potting plants in, and for feeding shrubs and trees.  Your compost may have twiggy bits in it – you can seive these out if you are particularly pernickity about your compost!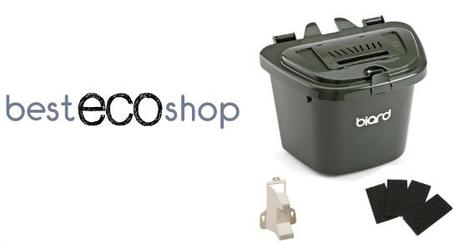 If you are keen to start composting then you can head on over to bestECOshop.com before 30th August to enter to win your very own kitchen caddy!
*  This is a sponsored post in association with bestECOshop.com – all words and opinions are my own.
Images: 1 / 2 / 3  / 4