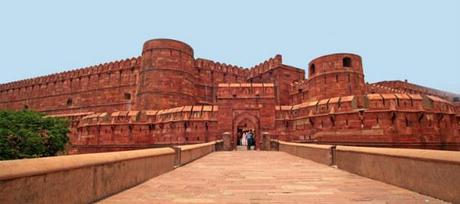 As a young kid agra meant home, my father was posted there for 8 years and all that i can recollect of this city is our frequent visits to taj whenever there was a relative arriving
 Yet after all these years Agra now seems much more than taj…….a  slice of history and heritage which was witness to magnificence,opulence and grandeur of mughal era……. there are many more interesting places of historical & architectural importance which make Agra the trip worth making!!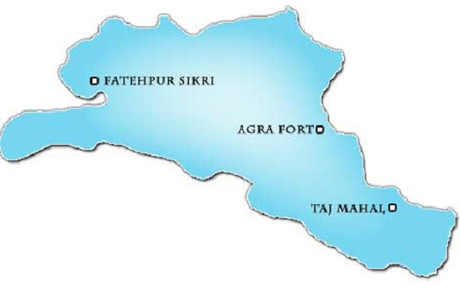 One of the many such places is Agra fort. It is a unique amalgamation of Mughal, Rajputana and Gujarati architecture. For instance, the Jahangiri Palace built by Akbar is a good blend of Islamic (Persian) and different local Hindu styles. Other buildings either have a mixed style or conform predominantly to the Islamic style. Another interesting feature of the fort is that it was built like a city boasting of a treasury too unlike other forts which solely were used for military purpose.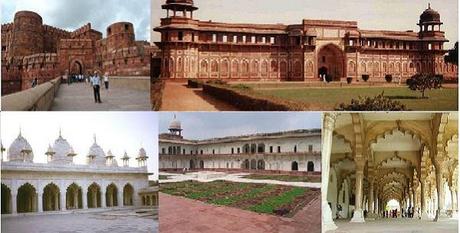 Monuments inside Agra Fort
There are many monuments inside the fort which boast of architecture & heritage importance. The most noteworthy building is the Jahangir's Palace), which was the principal palace for women belonging to the royal household. One can still spot remnants of decoration in gold and blue done in the prevalent Persian style. Jahangiri Mahal mixes central asian style with Gujarat–Malwa–Rajasthan tradition. The typically Gujarati brackets—fabulously carved animal and floral motifs—register a dominating effect on the few Islamic features such as the verandah on the eastern front with exquisitely slender pillars facing the riverfront.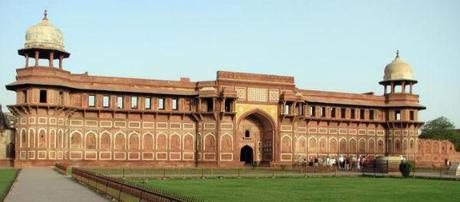 Jahangir Mahal, Agra fort
Both Jahangir (Akbar's son) and Shahjahan (Akbar's grandson) were enamored of the sensuous effect of white marble; in their quest to make buildings of marble, they demolished many of Akbar's red sandstone structures. Hence the buildings present in the fort complex reflect a distinctive mughal style of architecture as we see it today.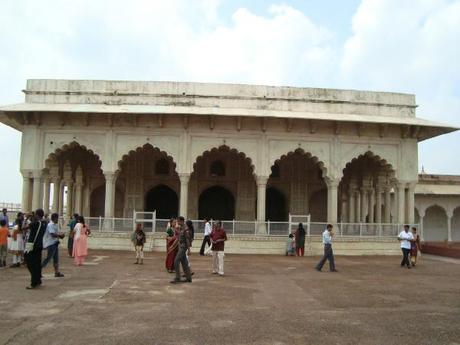 Diwan e Khas
In the above context there are many interesting buildings present in the complex. One such building is Machli Bhawan which used to be fishing place of the royal household. Yet another building on which shahjahan has left his indelible mark is Diwan-e-khas or the hall of private audience (an airy edifice) which is a small hall with double marble columns inlaid with pietra dura decoration (white marble carving with precious gemstones).The  windows closed with jali (intricately perforated decorative stone screens) present fabulous view of the riverfront. Then there is angoori bagh(grape yard),a formal mughal garden which was placed opposite to royal quarters.
Musamman Burj - a beautiful octagonal tower built by Shah Jahan for his beloved wife Mumtaz Mahal.
Jasmine tower or Musamman Burj (an octagonal tower) within the Agra fort is the most romantic, ornamental pavilion which offers a panoramic view of the Taj from a distance.  Here Shahjahan spent his last days in captivity viewing the monument of love and reminiscing about his beloved Mumtaz.

Noor Jahan and Mumtaz's place in Agra Fort
There is a particular fountain present in this complex which creates the optical illusion of water. This place was home to the two beautiful and powerful Mughal queens—Nurjahan (Jahangir's chief queen) and Mumtaz Mahal (Shahjahan's chief queen). The quality of pietra dura (the famous Italian stone inlay work) decoration is fabulous and perfect.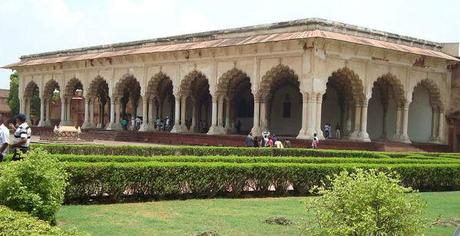 Diwan e Aam
Concealed steps lead to the Diwan-I-Aam (hall of public audience). Here was kept the famous Peacock Throne ordered by Shahjahan.. Further north stands the Moti Masjid (pearl mosque), its three domes in white marble standing over the red sandstone wall.
In all the agra fort stands testimony to the bygone era, the era which spelled magnificence, opulence and mystique filled with colourful and interesting anecdotes waiting to be discovered…..so the next time you are interested in exploring a piece of history  around Delhi go for it!!!!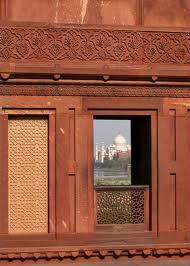 View of Taj Mahal from Red Fort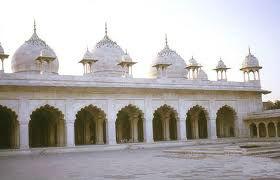 Pearl Mosque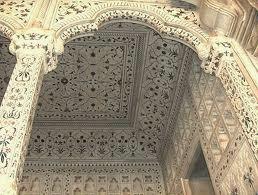 Marble Carvings at Agra Fort
White Pavilion inside Diwan e Khas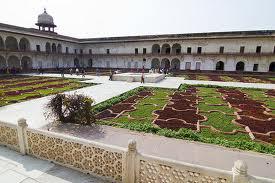 Anguri Bagh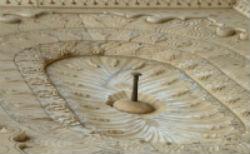 Fountain inside Jasmine Tower
To enjoy your trip to the fullest, you can opt for the accommodations in Agra such as homestays and vacation rentals . The Other Home provides you the best accommodations so as to make your trip memorable.
If you want to be notified next time, subscribe to the RSS feed or say hello via Twitter @theotherhome. You can plan your dream holiday with us, visit The Other Home.