Halo semuaaa!!Hari ini aku pengen nulis post dalam bahasa indo, daripada ntar lupa gimana ngomong indonya gr2 keseringan tulis blog pakai bahasa inggris. Hahahaha.. Lebay dot kom. (For my international readers, i think you couldn't translate this whole post into english because most indonesian words are written in 'slank' way. LOL)Gimana nehh liburannya?? Pada asik nggak?? Yang pada ngga kemana2 pasti jawabnya sengak abiss, soalnya pada bonyok bersih2 rumah, ya nggak?? Aku iya neh soalnya.. Hahaha..Liburan kemarin aku cuma naik ke Pacet 3 hari, Pacet itu semacam 'Puncak' utk orang Surabaya, ya lokasi buat berdingin2 ria selain Tretes, Batu dan Trawas. Soalnya udah duluan liburannya sihh minggu lalu ke Singapore, jadinya pas orang lain pada libur, aku di rumah aja jadinya T_T
Oke, cukup deh curcolnya ya, hari ini aku ngreview salah satu lens yang digembor2in sama sellernya super comfy banget, 12 JAM TANPA TETES MATA katanya, what?!! Kaget kan??Sama deh, aku juga gitu, penasaran banget jadi pengen nyobain, secara mataku ini super sensitif, pakai lens yg diameternya kegedean, beberapa jam aja udah merah membara nih mata, udah burek ngga ketolong gara2 kecapekan.. OMG... Ini nihhh barangnya..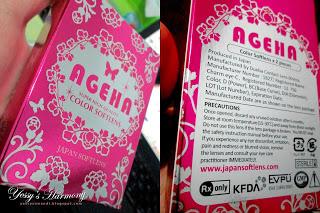 AGEHA
Color Softlens x2
Produced in Japan
Manufactured by Dueba Contact Lens (Korea Manufacturer Number : 1827),
Registered Name : Charm eye-C, Registered Number : 12-756 Color,
D(Power), BC(Base Curve), DIA(Diameter), LOT(Lot Number), Expiration Date, Manufactured Dare are as shown on the lens package
PRECAUTIONS
Once opened, discard any unused solution after 6 months,
Store at room temperature (15-30*C) and away from direct sunlight.
Do not use this lens if the lens package is broken before your use.
If you experience any eye discomfort, irritation, pain and redness or blurred vision, remove the lenses and consult your eye care pactitioner IMMEDIATELY.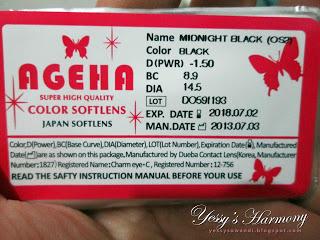 Ada buanyak macemnya ini soflens, kalian bisa cek langsung ke http://shop.japansoftlens.com/. Aku pilih yang hitam supaya bisa aku pakai untuk sehari-hari, secara soflens aku udah numpuk buanyak banget tapi kebanyakan dari mereka selalu bikin mataku capek kalau dipakai kelamaan.
Softlens dari Japan Softlens dibuat dengan teknologi khusus yang sangat cocok untuk mata sensitif, karena saat dipakai, softlens nggak langsung menempel di mata, tapi mengambang di atas lapisan air mata. Jadi air mata bisa mengalir dengan lancar dan nggak bikin mata kita kering.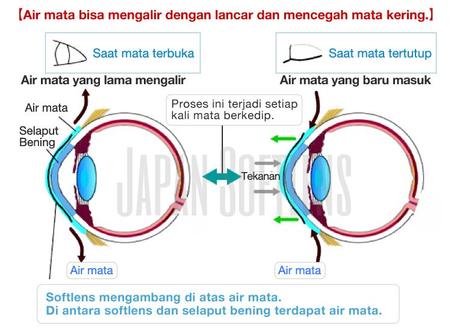 source: http://shop.japansoftlens.com/user_data/authentic_quality.php
Keren banget ya dengernya? Ayoo siapa yang suka iritasi kalau pake lens tunjuk jari! Pasti penasaran abiss kan baca racun aku? LOLOLOL.
Sekaranh kita liat yuk gimana penampilannya si Ageha Midnight Black.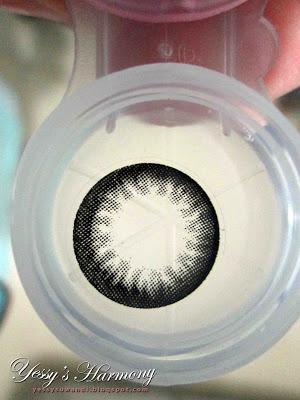 Patternnya simpel, nggak banyak ornamen dan yang aku suka outer ring nya dia nggak kelebaran kayak Diva Soul Black Velvet yang pernah aku review
di sini
.Dan ini penampakannya kalau dipakai di mata aku.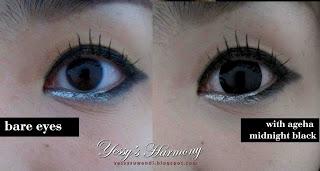 Enlargementnya oke, untuk ukuran diameter lensa standard 14,5 bagus banget menurutku. Keliatan kan iris aku jadi belo bangett.
Ini beberapa foto muka aku pake Ageha Midnight Black. Siap2 PIC SPAMMING!! Lol.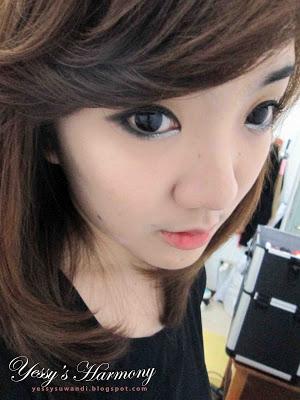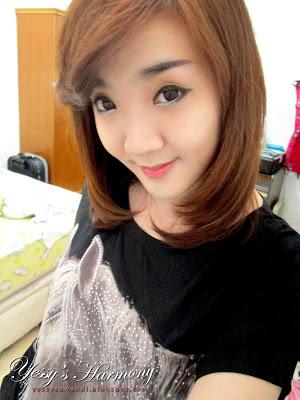 Natural banget kan keliatannya?? Warnanya hitam juga, jadi serasa ngga pake lens, pasti dikira orang mataku udah cantik belo bawaan dari bayi, huahahaha.. Nipu banget...LOL
Eh iya, soal comfynyaaaa!
Emang harus aku akui, ini lensa bener2 enakkk banget dipakenya!! Gila, mataku nggak merah sama sekali bok!! Segaris aja ngga ada itu urat merah di mata yang biasanya udah pada nongol kalau udah pakai softlens 4-5jam. Rekor aku pakai lens ini 6 jam dan nggak capek sama sekali, nggak merah, nggak kering juga, bye2 tetes mata! Belom kebukti sampe 12 Jam sih, ntar dah aku cobain sampe 12 jam hahaha...
Ohya, kalian bisa dapetin ini dgn harga Rp. 150.000,- cukup affordable kan utk kualitas lens seoke ini? Buat yang penasaran sama Japan Softlens kalian bisa langsung capcus ke TKP disini:
BLACKBERRY PIN : 25A8140C
MOBILE / SMS : 081-807-909033
LINE ID : YULIALUSIANA
INSTAGRAM ID : JAPANSOFTLENS
E-MAIL : INFO@JAPANSOFTLENS.COM
Segitu dulu share aku, See you in the next post!!Lotta Love,Yessy