It's a very common thing for runners to feel a sharp, intense pain under the lower edge of the rib cage, and usually depends on individual which side it occurs. This intense pain is called stitch. 
As for me, it always occurs at my right side. I noticed, it will appear when my running hits 40 minutes above or after a hill climb. The pain comes and goes, but when it comes, it's so sharp that sometimes I couldn't continue to run but to stop and walk. Unfit some may say. Hmm, maybe. 
I need to find out what causes it and how I can fix it. 
Googled.
What is stitch? 
It's a muscle spasm of the diaphragm. (diaphragm: a dome shaped that divides the chest from the abdominal cavity). The diaphragm helps us in our breathing and when we run, the movement of the interval organs bounce up and down, straining the diaphragm while exhaling can sometimes cause spasm, in other words, stitch.
What could be the cause? 
Stomach full of food

Shallow breathing that causes the diaphragm to be always at the high position, not allowing the ligaments attached to the liver to relax. 

Running downhill causes more organ movements

Incorrect breathing technique

No proper warm-up prior to running

Incorrect running technique or posture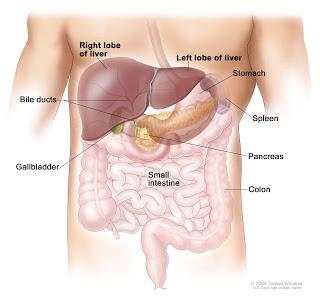 Prevention
Eat light before run. If you must eat a full meal, eat an hour before the run. 

Use deep or belly breathing while running. This allows the diaphragm to fully lower and reduce stress on it. 

Purse your lips and forcefully exhale and inhale. (like blowing a candle). 

Exhale when left foot strikes the ground instead of your right. The theory is that the organs located on the left side are not as big as those on the right like the liver. So less strain on the diaphragm. Inhale when right foot strike the ground.

Drink lots of fluid to reduce dehydration and fatigue. Avoid sugary or carbonated drinks.

If you lean forward while running for too long, it could put too much pressure on stomach muscles. So, try to lean forward or back, left or right to change the pressure on your stomach muscles once in a while.