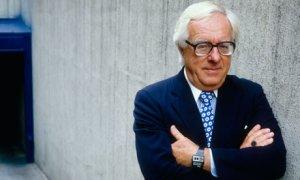 Science-Fiction author and visionary Ray Bradbury made his transition into the afterlife on June 5th, 2012. He was born on August 22nd, 1920. He was a descendant of Mary Bradbury, who was tried at one of the Salem witch trials in 1692.
Visionaries…always up to funny business.

He was greatly influenced by the writings of William Shakespeare and Edgar Allan Poe. Bradbury was especially impressed with Poe's ability to draw readers into his works. In his youth, he spent much time in the Carnegie Library in Waukegan, Illinois, reading such authors as H.G. Wells, Jules Verne, and his favorite author, Edgar Rice Burroughs. Burroughs wrote novels such as Tarzan of the Apes and The Warlord of Mars. He loved Burroughs' The Warlord of Mars so much that at the age of 12 he wrote his own sequel!
Ray is best known for his dystopian novel Fahrenheit 451 and for the science fiction and horror stories gathered together as The Martian Chronicles and The Illustrated Man. Bradbury was one of the most celebrated 20th-century American writers of speculative fiction. Many of his works have been adapted into television shows or films.
He wrote Fahrenheit 451 within a few weeks on a dime operated type-writer in the basement of Pasadena Public Library for a cost of $9.80. Despite many interpretations about the meaning of the story, Bradbury himself stated that the book was not about censorship, but about how television media was destroying literature. He also said the villain in the story was not the state, but the people.
I first encountered Mr. Bradbury through his book The Martian Chronicles one summer when I was 13. So lush where his words, so compelling where descriptions of the Martian life and community, that I must have read The Martian Chronicles fifty times that summer!
I once had the chance to hear Mr. Bradbury speak in person at the the public library in Sierra Madre, California. Not having a car or a license at the time myself, I had to walk about 7 miles each way. It was an absolutely captivating experience. I could not believe that this short little old author could speak with such power and charisma!
It was only on the date of his death that I discovered that Ray Bradbury himself either walked or had someone drive him there! You see, he was terrified of automobiles because of a terrible accident he was in as a teenager; he never obtained a driver's license.
Can you believe it? A man who was a best selling author and consulted Disney on the Epcot Center never learned out to drive!
Thank you Mr. Bradbury, for contributing to my childhood, my love of science-fiction and belief in extraordinary possibilities! My small blog does not do you justice, Sir!
Maybe if you have want to get together and write more books, we can talk!