Dear Hallmark, American Greetings, Sunrise Greetings (owned by Hallmark anyway) and Papyrus,
Let's talk Father's Day.
My father does NOT do any of the following: Golf, BBQ as a hobby, wear a tie on a regular basis, nap constantly, fight over the remote control, support me financially, refer to me as a pain-in-ass-child, drink beer and/or mow the lawn. Also, he is not a sappy guy with an incredibly cheesy sense of humor. (Ok, he might have kind of a cheesey sense of humor but I'd really describe it more as a twisted sense of humor... You king of have to know him to get it.)
I do not know who you are making your Father's Day greeting cards for - though I suspect middle America - but it's not my dad. It's not any dad I know. 
Here is what my father DOES do:
He works. Most of the time in nice jeans or slacks, and a tasteful button down shirt. He's pretty stylish, actually. 
He has been known to watch golf on TV, but doesn't do it in person that often. He does however enjoy hockey immensely and ocassionally basketball, football and baseball.
He likes to travel with my mom. He's even tried zip-lining. He kind of wants to try scuba.
He likes word games. He'll kick anyone's ass at Scrabble. In fact, he likes games in general - he plays Wii and has some computer games he likes. 
He loves movies and music. 
He is incredibly smart. Almost to the point of annoyance. My brother inherited this much more so than I did (I'm the artsy one). They do math in their heads most of us can't work out on paper or a calculator. 
He exercises regularly
And no, he does not financially support me but when I need something, as reluctant as I always am to ask, he's there. 
He loves his wife and his children. He is our chief protector and supporter. As a teenager, I'm sure I did not appreciate this enough but as an adult, it's become the greatest life lesson I've learned. (When I had a really bad car accident in 2005, my father was on the scene before the cops. When I got rear-ended in San Diego last year, my father didn't even flinch before getting in the car to drive down and get me. When I need good advice, he is my first call.)
Put that in your cards. 
And while you're at it, some cards from "both of us" that do not seem like they are from four year olds would be most handy. If you're going to charge me six dollars for a greeting card, I certainly should not have to buy TWO of them.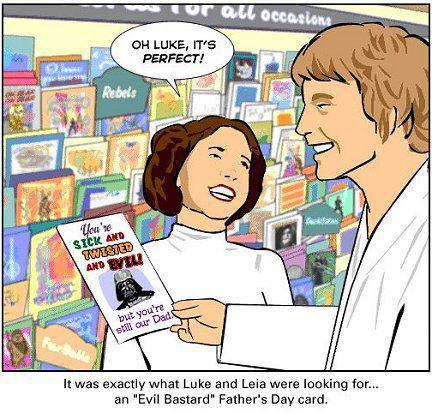 This is becoming an annual issue for me!