What's up fellow Los Angelenos? (Is that what we're called? I never know.) I've got a restaurant RAVE for you: 
I'm sure many of you know about Pink Taco. For a while, it's been a stand-out (literally - it's got a HUGE entry and it's BRIGHT pink) down at the Century City Mall and now, they have finally opened a second Los Angeles location. Found at 8225 Sunset Boulevard in the heart of the Sunset Strip, the hot spot features a winning combination of authentic Mexican cuisine and Hollywood trend. 
Pink Taco's house favorites are known as such for a reason. Their signature homemade Guacamole, made fresh throughout the day topped with red onions, cilantro and lime juice is a treat. You cannot beat their Lobster Enchiladas, which are made in a brandy chipotle cream sauce that is to die for (I wanted to lick the plate). But you can't enjoy a solid Mexican meal without a margarita and Pink Taco's do not disappoint. Favorites include the "Puerto Rican Jane" which has, among other things, orange liqueur, fresh honeydew, fresh strawberries, and… fresh ground black pepper in it. (Sound weird? Cause it did t me but I figured I should try it and WOW! It's surprisingly refreshing.) Owner Harry Morton is not without a sense of humor so you will also see "The Cock Fight" and a "Mexican Rodeo" on the drink menu. (I don't know what a "Mexican Rodeo" entails but it can't be sanitary.)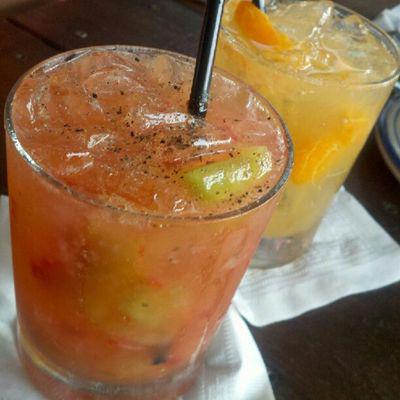 I'm telling you - the pepper was fantastic
The iconic 12,000-square-foot, three-level space, which was formerly the home of Miyagi's (which was SOOOO run down in the end of days) and opened during Memorial Weekend, is rich with Hollywood history. The location once housed the infamous Player's Club in the 1940's so Morton worked hard to and restore the interiors to the original grandeur, exposed brick and raw steal ironwork.
Each level has its own theme, however. The first level, which also holds the largest patio on the strip, brings the patrons a little "Day of the Dead" vibe. Upstairs, the second level has more traces of the venue's 1940's roots; it's a little more Mexican colonial than Mexican holiday. The third floor remains a mystery with secrets only known to Morton, who will unveil it later in the year.
Any questions? Ask the staff – they are both friendly and knowledgeable. You would do well to ask to be seated in Hannah's section - because I have a girl crush on her - and make nice with the general manager, Jim. If the Sunset Strip on a Saturday night sounds daunting, start off slow with a weeknight but definitely spend it on the patio. You will probably NEVER catch me on the Sunset Strip on the weekend but I'll come meet you any weeknight for a beverage. ;) 
Thanks so much, PT, for having me and Chris over for dinner. Just DELICIOUS all around. I was so pleasantly surprised! I'm totally coming back. 
The official article and more photos can be found on my Examiner page: http://www.examiner.com/review/glamour-and-mexican-food-come-to-the-sunset-strip-via-pink-taco
Photo courtesy of my date. I look like crap but I just decided not to care. :)