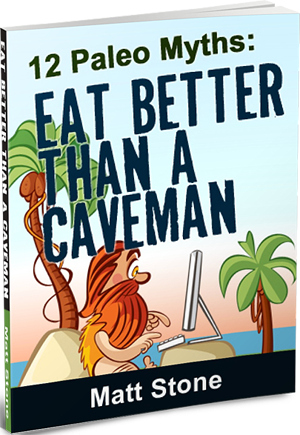 For the last half decade I have communicated with hundreds of thousands of people all over the world.  And in that time I've seen a theme repeated again and again – various health ideas rarely live up to their hype.  And worse, not only is a utopian state of health not delivered by these various health crazes - it seems the harder people try to achieve dietary perfection the more crazy, alienated from friends and family, and ill they become.
The latest craze is looking like Paleo.  It's a diet and lifestyle based on what our Paleolithic ancestors, who MIGHT have been healthy and who MIGHT have been lean, muscular, and attractive MIGHT have been eating… and the exercise and eating patterns they MIGHT have been following.  Observation of modern hunter-gatherers completely refutes all of these assumptions.  And, on top of all those assumptions, it is assumed that the ancestral lifestyle, because it was "natural," was automatically advantageous (even though we know the natural lifestyles and diets of wild animals are in many ways highly detrimental to health, longevity, and reproduction).  Wait!  There's more!  Now it's assumed that we have a biological requirement encoded in our DNA to follow these practices or else we suffer deadly diseases!
It's time to get real.  And it's time to talk about what's really going on in the human body.  Why? Because people, especially healthy, young people, are doing great harm to themselves on this diet and hearing that their failures are due to lack of trying hard enough.  But there are answers to why health often declines over time on a Paleo diet and lifestyle – very simple answers with very simple solutions.
TRUTH…
Hunter-Gatherers are typically small, undermuscled, and overbellied with low reproductive rates.
Many agriculturalists and pastoralists are much healthier and robust and live longer lives than present day peoples living with a Paleo diet and lifestyle.
Cavemen didn't live very long because the natural environment for humans during the Paleolithic era was extremely harsh – not conducive to a long, healthy life.
Carbs do not cause insulin resistance (thought to be the cause of obesity and type 2 diabetes, among other conditions), but actually help to reduce it.
Carbs don't cause blood sugar levels to become elevated.
Restricting carbohydrates does not lower insulin or glucose levels or lead to long-term weight loss – but the typical 6 months of weight loss at best followed by weight regain universal to all diets, and a reduced metabolic rate and higher propensity towards autoimmune disease, digestive disorders like gastroparesis and constipation, hair loss, loss of sex drive, function, and menstruation, and more.
Intermittent fasting typically recommended by leading Paleo authorites, or eating with a decreased meal frequency that is, causes elevations in insulin and cortisol levels – biomarkers of poorer health and accelerated aging.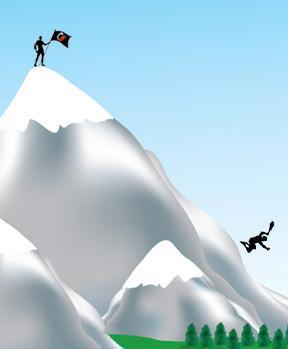 So why does the Paleo community tell such a different story from what is reality?
That is a good question. Like most diet fads, a few personal success stories led to zealotry, and the next thing you know the winners of the Paleo lottery had banded together and created their own version of science. They passed the fruits of their scientific alchemy amongst themselves and repeated it over and over again ("Carbs spike insulin which causes insulin resistance, carbs spike insulin which causes insulin resistance…") until a lot of people started accepting this garbage as truth.
If you have been seduced by the Paleo logic, false promises, and scientific fairy tales being passed around the internet like an STD, you better read this…
…Especially if you are starting to feel some of the negative consequences of this poorly designed diet and lifestyle creeping in. Sure, it can feel great at first. But what happens when the weight loss stops and you start having all your health problems come back with a bunch of new ones – like cold hands and feet, reduced libido, erectile dysfunction, insomnia, dark circles under your eyes, hair loss, loss of menstruation, autoimmune disease, new food allergies, tooth pain, anxiety, heart palpitations, and chest pains?
Find out, in 12 Paleo Myths: Eat Better Than a Caveman.  And read dozens of real-life Paleo horror stories that have found their way into my email inbox and 30,000+ blog comments over the years.  If you are struggling on Paleo, you are not alone.  And your way out of this dietary prison is just a click away.
Purchase now and save $5 off of the release price of $19.95 (release date March 10, 2012)
 Pre-order now for just $14.95